Home | About PVC | Activities | Backyard Boreals 2007 | Bird-a-thon 2006 | Acadia 2006 | Fields Pond | Birding Eastern Maine | Bird Feeding Tips | FAQ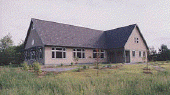 Fields Pond Audubon Center
216 Fields Pond Road
Holden, Maine 04429 USA
(207) 989-2591
Hours: Visitors are welcome on the property anytime dawn to dusk, seven days a week, year-round.
Nature Center's Hours
Sunday: 1 – 5 pm
Monday, Tuesday, Wednesday: Closed
Thursday, Friday and Saturday: 10 am – 5 pm
Location & Directions: Maine Audubon's Fields Pond site is just outside of the Bangor-Brewer, Maine area, on the Fields Pond Road where it crosses the Holden-Orrington town line. The property is open to visitors dawn to dusk, seven days a week. Please park in the gravel parking area at the new L. Robert Rolde Nature Center building. (The turnoff space on Fields Pond Road is reserved Monday-Friday as a school bus turnaround.) The upper grassy parking area on the East end of the property is mowed and can be used until snow-covered.
Directions from the North or South via I-95: Take exit 45 to I-395, direction of Brewer. Proceed about 3 miles (crossing over the Penobscot River) then take the Parkway South exit from I-395. Turn left from the exit, continue on Parkway South to a four-way junction. Turn left on Elm Street, which becomes Wiswell Road in about a mile. Continue on Wiswell Road to Fields Pond Road (on right). Nature Center is well marked on Fields Pond Road. Directions from the East and the Coast: from Route 1A take a left onto either Copeland Hill Road (in Holden) or Green Point Road (near MacDonald's in Brewer). Turn onto Wiswell Road, follow to Fields Pond Road. Nature Center is well marked on Fields Pond Road.
Habitat: Its 192 acres include fields, wetlands, and forest, 1600 feet of lakeshore, a 22-acre island in Fields Pond, a beach, a brook and a ravine. Wildlife at Fields Pond varies from small salamanders and tree frogs, to over a hundred bird species, to bear and moose.
Trails: Walking trails are open, but may be muddy or snowy in some places. Join in one of the organized field trips or walk, bird-watch, or just sit and contemplate Nature. Pitch in on volunteer work sessions. Degree of difficulty varies, e.g. Ravine Trail requires a stream crossing and climbing steep rock stairs — either or both of which may be slippery from rain, snow or ice. Other trails are more level and easier, for example the mowed grassy paths, which can be identified in winter from the breaks in the vegetation. Try the ones you like or come on a guided walk the first time to familiarize yourself. Ravine Trail features rock stairways and stepping stones across a small stream. Lakeshore Trail has a 300-foot cedar boardwalk through a floodplain swamp and offers good views of the pond, including our island in Fields Pond. Volunteers continue to make walking trails, but these are partially unmarked. Volunteers plan to lay out cross-country ski trails on the Nature Center property this year.
Facilities: L. Robert Rolde Nature Center
Canoes available to rent on beautiful Fields Pond Enjoy the butterflies and birds visiting the feeders and wildlife garden surrounding the building. Lending Library (free to members) with books, audio cassettes, and videos. Nature Store Room rental available when not needed for nature center programs.
To Protect Wildife & Habitat, Please…
No pets
Fires, hunting, trapping prohibited
Collecting prohibited
Camping, alcoholic beverages, off-road vehicles prohibited
Stay on trails and please carry out all litter
History
Maine Audubon acquired 192 acres by bequest from the estate of the late Katherine Curran in 1994. The Curran family kept cows, harvested ice from the pond in winter, and cut wood from the forest. Their gift of land included 1600 feet of lakeshore, a stream and ravine, several wetlands, fields, forest, and a 22-acre island in Fields Pond. In the Winter of 1998, Maine Audubon opened the L. Robert Rolde Nature Center, which was designed by "green" architects.
Poetry Corner
Three Spring haikus
Bruce Ross – Hampden
spring snow
a child's sneaker print has
a smiling face
spring sunlight . . .
centered in the chickadee's beak
a sunflower seed
first gardeners
their tees the only color
among the plants